Imagine for a minute  … Legendary Entrepreneurs Show You How to Start, Launch & Grow a Digital Business.
If you have been following me for awhile, you know I am HUGE on continuous learning and law of attraction. I also know that in order to succeed and be able to serve more people, I need to continue to grow, share and surround myself with like-minded people as well as successful people. Just go find me on Facebook and you will see all of the greats I surround myself with.
Most of us have a few things in common, the desire to succeed and to have the freedom to do what we want when we want and to be able to provide for our families.
Now just imagine getting to learn that from people who have done it!
Anik Singal ( and if you don't know who this is, it is possible that you have been living under a rock) has put together what every Entrepreneur needs to succeed and the speaker list is AMAZEBALLS!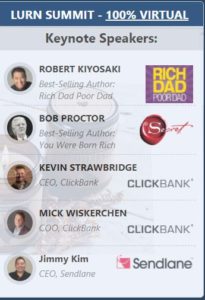 Disclaimer :

This Blog utilizes affiliate links. If you click on a link and make a purchase, I may receive a small commission at no extra charge to you. But Hey, A girls gotta eat!
The Keynote Speakers Are World Famous Industry Heavyweights. #aniksingal #robertkiyosaki #bobproctor #kevinstrawbridge #mickwiskerchen #jimmykim
They are highly sought after Entrepreneurs.
They've helped change the lives of MILLIONS of people over many decades. They're coming together now to bring their power to #LurnNation!
They've written best-selling books, coached billionaires and lead Fortune 100 companies.
The Value in this is priceless!  I value the growth of my business and love learning from the best!!
Do YOU want to learn how to scale your business to 7 Figures?