With the shortage of medical facemasks I wanted to see of I could make a diy face mask without using a sewing machine. The only time a needle and thread was used , was to secure the elastics to the mask.
Please be aware that this site utilizes affiliate links. All this means is that if you click on a link and make a purchase, I may receive a small commission at no extra cost to you.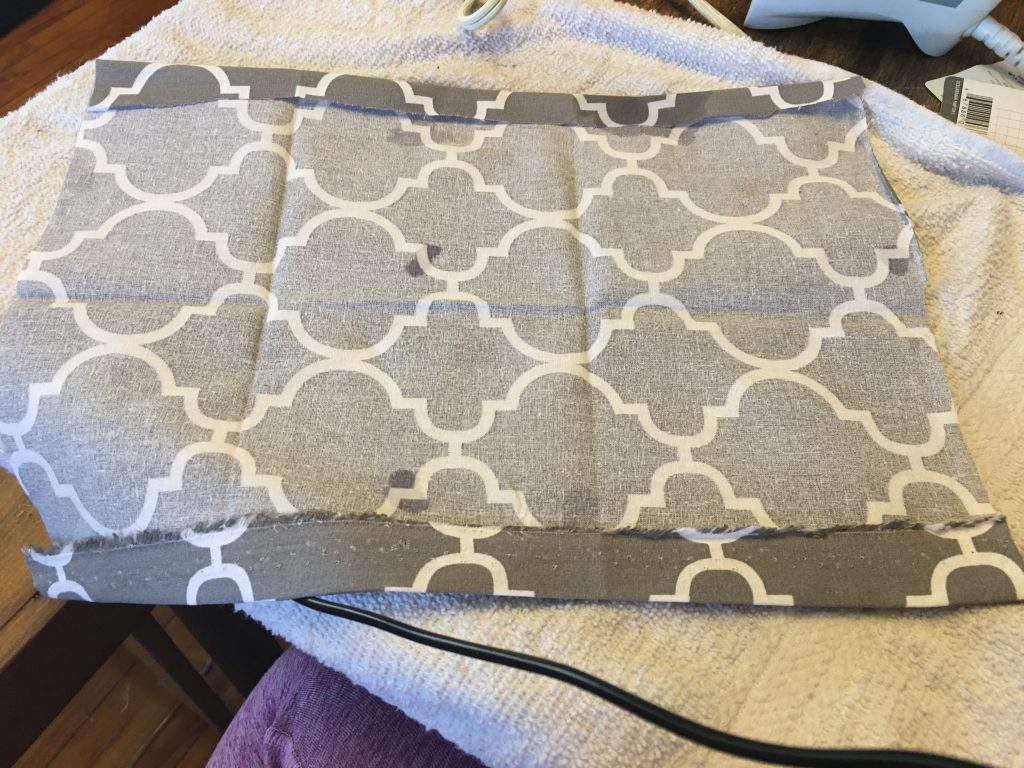 SUPPLIES NEEDED FOR DIY FACE MASK:
I started with a piece of fabric that I had cut to 9 x 13 and folded each side over about an inch and ironed it flat with my steam iron. (Hence the drops of water on the fabric)
This was my first trial on making the diy face mask and I plan to try a couple of different methods. With this first one, I wanted people to be able to make their own mask without the need for a sewing machine or a lot of hand stitching.
I have used this iron on adhesive for several previous projects with great results, so thought it would be something really easy for those who do not know how to sew ( or like me , just aren't very good at it! ) 
Measure and cut a piece of iron on fuse tape to fit under each fold and iron each side to fuse the fabric together.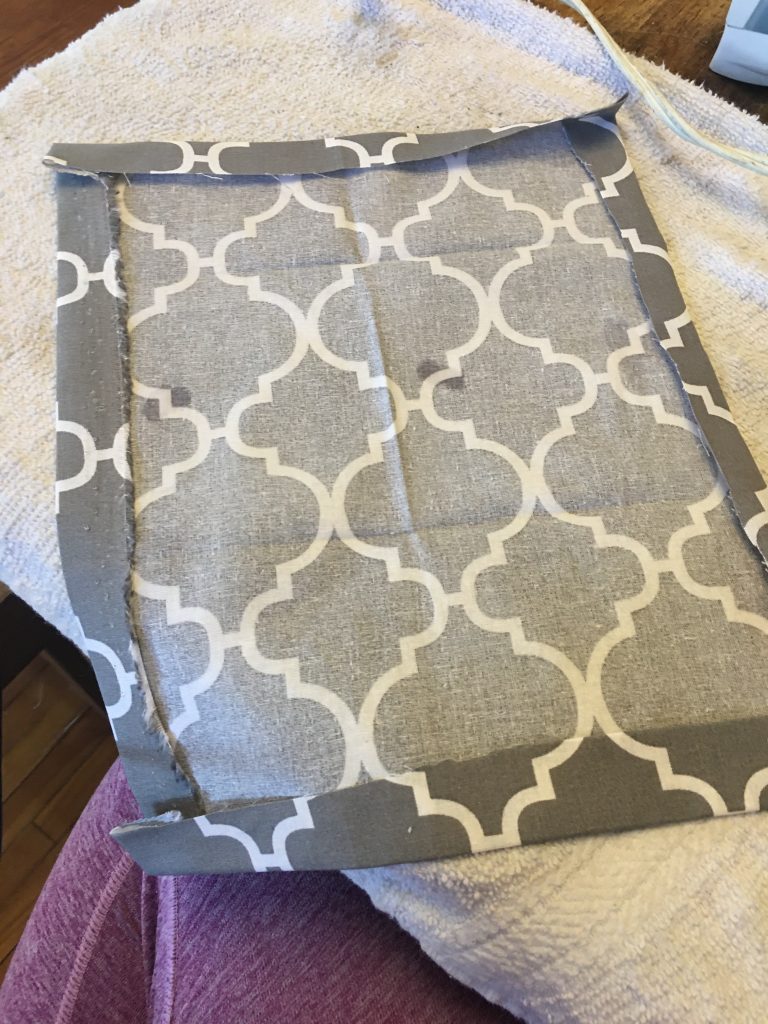 Next you will want to fold the fabric into 3 sections  with some overlap, much like a clutch or envelope.
You will want to iron so that you can see the creases. I also made a crease directly in the middle of the fabric.
Flip the fabric over and pinch to create pleats in the fabric. I created 3 pleats and ironed them to hold the pleats in place.
You will then want to flip it over and fold it back in to an envelope. Once you have it folded, take each end and secure with fuse tape. Tuck your elastic band into the crease and throw a couple of hand stitches in each end to secure the elastic. ( I had cut two 7.5 inch pieces of elastic but found the ear loops way too tight, so I would likely try 9 inches next time) 
I also tried doing one solid piece of elastic in the middle to secure behind the head but found the fit was not as secure.
The reason we folded it over in this fashion was to allow for a pocket to slip in either a piece of felt like I have used or any other material that you can use as a makeshift filter. While this is not as good as the medical masks you can purchase, it will offer some level of protection. 
As I previously mentioned, I will be attempting other versions of the mask and will be posting them so that others can make their own if they are unable to purchase masks.
I also just want to re-iterate how important it is for people to be practicing social distancing and self isolation in order to cut the exposure and growth of the virus.
I have some other posts that you may find helpful.
Places you can shop online for supplies ( many will have wait times and shipping is still an option at this point) and antibacterial/antiviral essential oils that includes a DIY Antibacterial Hand Sanitizer recipe.
Stay Safe & Be Kind.