As I approach 50 ,  I am even more cautious about what I am putting on my skin.  I want my skin to look youthful and glowing and I want my skincare products to contain beneficial , natural ingredients. 
DISCLAIMER: Please be advised that this site utilizes affiliate links. All this means is that if you click on a link and make a purchase, I may earn a small commission at no extra cost to you.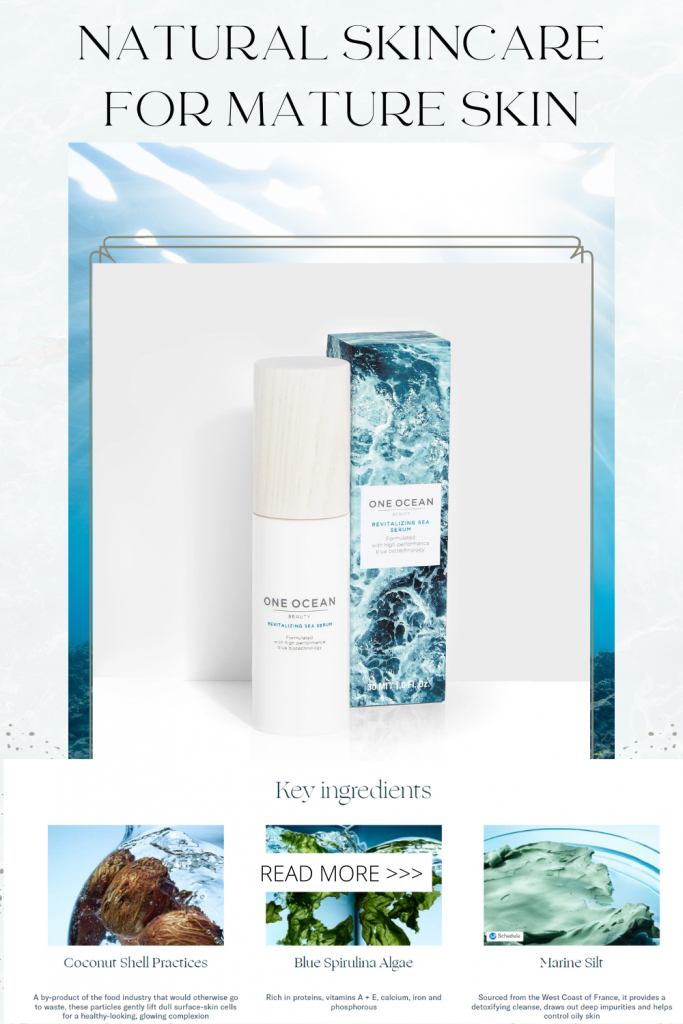 That is why I was so excited to find a line of products that used natural ingredients from the ocean! 
What are the Benefits of Marine Algae?
"" It is an abundant source of amino acids, vitamins, minerals, antioxidants, and essential fatty acids, all of which are beneficial to the skin. Algae has the ability to soothe irritation and inflammation, reduce the appearance of sun damage and brighten the skin. It has also been proven to boost hydration, firm, and reduce the appearance of fine lines + wrinkles. " – ONE OCEAN BEAUTY 
Hydrolized Marine Collagen
Hydrolized Marine Collagen helps to prevent skin degeneration, inhibits dark spots and brightens the complexion. It also works to soothe irritation and reduce inflammation. 
What is Micellar Water and Why Should I Use It?
Micellar water is made up of tiny surfactant molecules suspended in soft water. It is highly effective at removing makeup, dirt and grime , while remaining hydrating and toning the skin. With continued use, you will notice that your skin will become more mattified , which for many women is the goal.  
3 BENEFITS OF MICELLAR WATER
Mattifying
Firming
Anti-inflammatory

What Is The Best Natural Skincare Routine For Mature Skin?
Start with cleansing your face with micellar water and follow with Blue Algae Exfoliating + Detox Mask.
This mask will help remove dead surface skin cells, provides a deep detox and locks in moisture and promotes elasticity.
Follow up with the Revitalizing Sea Serum which is clinically proven to visibly reduce the appearance of fine lines, wrinkles, and roughness by stimulating collagen and hyaluronic acid production.
If you would like a complete system , One Ocean Beauty Skin System is perfect for mature skin. 
Some other benefits of  collagen is that it also gives you strong , healthy hair and nails  and it also aides in alleviating arthritis pain and inflammation.
One of the best ways and quickest ways to achieve results with marine collagen is to ingest it and luckily One Ocean Beauty has also created an oral supplement. 
Create your natural beauty system , your skin will thank you! I would love to hear what your favorite product is,, let me know in the comments below.