If you are anything like me then you want easy ways to get your nutrition.
I will confess … I like convenience (gasp!)
I am also one of those people that would rather have a smoothie over a meal.
Let's be honest though, a majority of the things that are supposed to be good for you taste awful!
So I am pretty happy to share with you the ones that I DID find that are absolutely delicious & nutritious!
Disclaimer: This site utilizes affiliate links. What does this mean? If you click on any of the links and make a purchase, I may receive a small commission at no extra cost to you. Part of the Products in this post were sponsored and part purchased with my own money. My opinion is always my own regardless.
I have tried so many different health products over the years and that includes protein powders and let me tell you, I disliked most of them! They all seemed to have that telltale chalky protein powder taste.
This past year I have had a lucky streak in finding some really tasty ones. Protein powders that honestly feel like you are drinking a sinful Milkshake!
1. Ideal Shape has so many scrumptious flavors! And there are still a number of them I want to try. Out of all of my recommendations, this is the one that has the most flavor choices. I counted 15 different flavors! I have tasted 3 of the flavors Chocolate Peanut Butter (think Reece's Peanut Butter Cups) Cookies & Cream (tastes just like an Oreo Blizzard) and Salted Caramel. All 3 were so good that I really couldn't even pick a favorite! I love that you can buy bundles to save money and the next flavors I want to try are Eggnog, Orange Cream, and Chocolate Coconut. Mmmmmm…. They also carry some other tasty looking products that are good for you.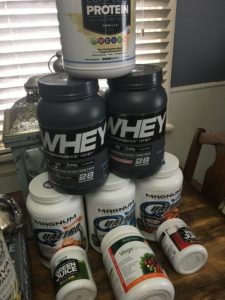 #2 Magnum Quattro –  I tried the same 3 flavors and they were equally as delicious! I purchased mine at Popeye's along with some greens which I will talk about later.
Out of all the Protein powders, I have tried this one has the highest protein content at 30g of Protein per serving.
MAGNUM QUATTRO™ IS AN EXCELLENT CHOICE FOR A PROTEIN SUPPLEMENT BECAUSE
High Quality Ingredients
It has only Isolate proteins (the highest quality and form of protein – supporting digestion, absorption, and results)*
It has 4 different sources of Isolate protein for timed digestion*
It has added CLA and Flaxseed for essential fatty acids and protein assimilation*
There is more protein per scoop than almost any product available today*
It will support sustained energy throughout the day**
It will aid in achieving leaner, denser muscles*
It supports an increase in your metabolic rate*
#3 Organifi – It truly is the Best Tasting Plant Based Complete Protein Drinks! All of the products from Organifi are chock full of good for you ingredients that also benefit your health in others ways. For example, the protein powder contains digestive enzymes, MCT's & Minerals. It is also Gluten Free, Non-GMO. Soy Free, Dairy Free & Vegan.
It comes in 2nd for protein content at 20g but I feel that the other added ingredients give it an edge.  I LOVE that their products combine so many beneficial ingredients into one product.
#4 – Quest Protein – This protein weighs in at 20g of protein and is Gluten & Soy Free. I had picked up 3 sample packs at Popeyes and got Vanilla, Chocolate & Cinnamon Crunch. Again all 3 were delish but the Cinnamon Crunch reminded me of Cinnamon Toast Crunch cereal and was one of the favorites with my family!.
#5 – Cor-Performance Whey – My son purchased this brand and I gave it a taste test. I tried the Strawberry Milkshake and it reminded me of Strawberry Nesquick. It has 24 grams of protein, is Gluten Free and contains 5.25 g of naturally occurring BCAA's.  This protein powder is made more for bodybuilders and was purchased from bodybuilders.com.
When it comes to detoxing I am a huge advocate of juicing, juicing powders & greens. Much like the protein powder though, finding one that I could tolerate was difficult (most were way too bitter).
The ones that I do recommend and taste good even just with water are  Progressive VegeGreens  and all of the juice powders from Organifi.
I have tried all of the flavors from Progressive and my favorite hands down is the Pineapple Coconut. It was our go-to for several months. I would mix either with orange juice or in a smoothie.
Organifi has 2 amazing juicing powders that can be used alone or together.
Both are chock full of good for you ingredients, including adaptogens (these help your body adapt to stress). While I won't go into listing the ingredients and their benefits, they are too numerous to mention. You can read all about it on their website.  In all honesty so far in my search, Organifi carries the best all-around products. I used to buy a lot of these ingredients at the local health store and let me tell you it was really starting to add up and I didn't even have them all!
I love that I can have them all in one convenient powder. The adaptogens are really important to me as they are known to decrease anxiety, along with the detoxing properties. Another benefit of these nutritious powders is that they give increased natural energy. They taste great mixed just with water but even better in a juice or smoothie.
Do You have a favorite Protein Powder or juice powder? Let me know in the comments section below.