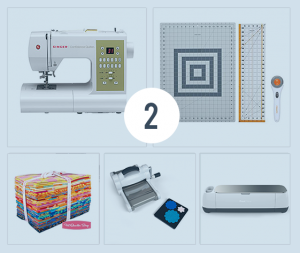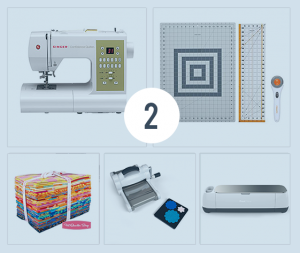 Snow's about ready to fall in the Northern hemisphere, and what will you be doing when it does?
Sitting by a crackling fire… Hot cup of tea nearby… Soft yarn and smooth needles in your lap…
Sounds like you're ready for colder weather :).
If you've been on the run all summer and fall, it's about time for your schedule to slow down just a bit… which means you'll be reaching for your next handmade project. I can't think of a better way to welcome winter than to tell you about a collection of digital resources you're going to be starry-eyed over.

It's called the Handmade with Love Super Bundle. Before I tell you what's in it, can we talk about that name? It's almost like this was created with you in mind.
Everything you make, every stitch you count, knit, sew, crochet, quilt… you do them all with love, don't you? I feel exactly the same way. That's why I'm so excited to tell you all this bundle, so you can soak up more of the joy and relaxation that comes with handcrafting.
Okay, let's talk about what's inside :-). With over 200 patterns, projects, and step-by-step tutorials, you'll find dreamy projects to create, new ways to sharpen your skills, or even a whole new technique to play with (quilting! fabric dyeing! rug making! weaving!). This bundle covers: quilting, sewing, crochet, knitting, applique, embroidery, cross-stitch, dyeing, fiber arts, and crafting in general. It's basically a crafter's dream collection. Swoon. And even better? You'll get all these projects and fresh patterns – created by hip, modern designers like Allison Glass, Elise Blaha-Cripe, Anne Weil, Rebecca Langford, and Liat Gat (plus 47 others)… …for just $29.97. (They're worth over $1,000!)
Curious how it's possible to get all of this so inexpensively?
The creators of these patterns, tutorials, courses and more joined forces to offer this incredibly special bundle, but just for a super short period of time. Once the sale's over, they'll go back to selling their products and patterns at full price. I really can't speak highly enough about the quality and value of what's inside, especially for this price! Want to check it out and get your own Handmade with Love Super Bundle? This is how it works: Visit the website , take a quick look at all the delightful projects you'll be able to create with this package, then click the pink "Get my copy now!" button to go through their simple and secure 3-step checkout process. You'll receive an email with a login to their online access portal, where you'll begin downloading your eBooks and patterns, signing up for your online courses, and redeeming your free bonus offers. Use their Getting Started Guide to pick the project or technique you want to try your hand at first and start creating! The most important detail, though, is that this bundle is available for just 8 days! (I told you it was short!)
After Monday night, December 4th, the sale ends and you'd have to buy all of these products individually. It's even backed by a 30 day full money-back happiness guarantee, so you can make sure it's right for you. Their customer service is amazing, and they truly want to make sure you're taken care of and that you love your bundle. If you're ready to spend more time making and unplugging from technology this season, this is just what you need. Create one-of-a-kind items to wear, gift, decorate with, and simply enjoy, with this curated, convenient, and super affordable library of patterns and projects. Learn more or get your bundle here