After over a decade of suffering from Chronic pain and illness and relying on chemicals , which was like applying a toxic band aide. I started healing with medical marijuana. Here are 10 Of The Best Cannabis Strains For Chronic Pain and Inflammation. 
Pro – They also help with many other medical conditions too!
#1: Grand Daddy Purple
Grand Daddy Purple is a beautiful easy plant for most all growers while staying under 36" tall. You can expect to get 3 – 6 oz per sq ft after a 7 – 9 week flowering period. Smoking this will help with pain relief, stress, insomnia, appetite loss, and muscle spasms. A few people that had reviewed this strain had also mentioned how it helped with their anxiety as well. It is a great medicinal marijuana strain.
Testing for this strain comes in at 17% to 23% THC and a 0.1 CBD. You can thank the sweet, grape, and berry flavor to the parent strains Purple Urkle and Big Bud.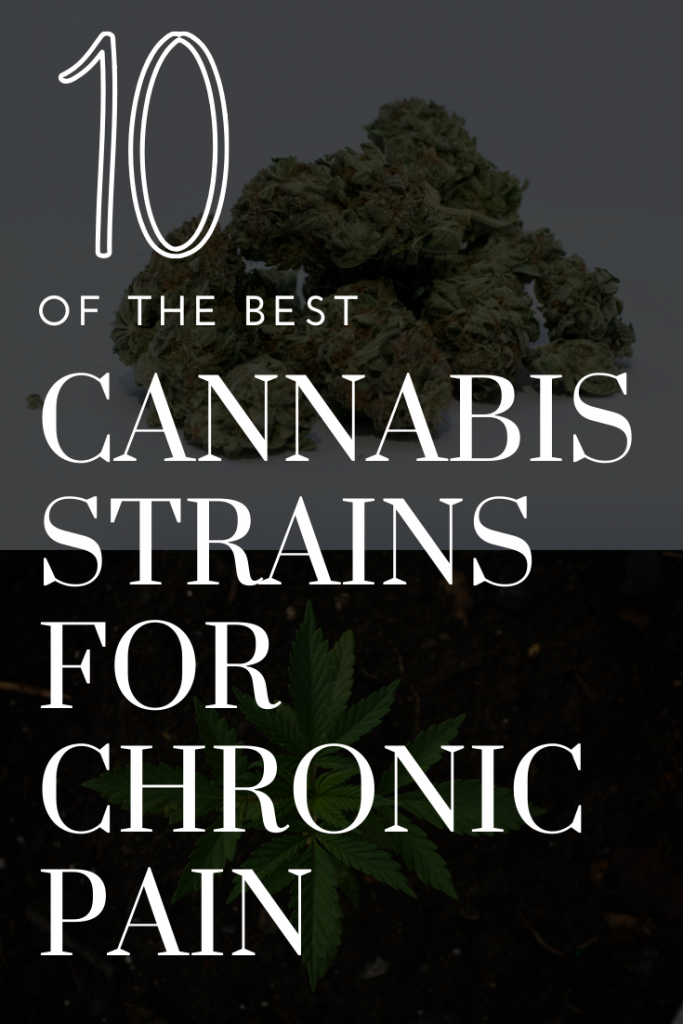 #2: Purple Arrow
If you have done any research on Purple Arrow or looked at any reviews, everyone is having great success. Helping take away discomfort from Fibromyalgia suffers and other pain suffers alike. People are even using Purple Arrow to replace  big pharma drugs like morphine and muscle relaxers. Also been said for help with depression and anxiety.
This strain I couldn't really find much information on out there but if you are looking for seed for purple arrow, you may be in luck if you have a green thumb. I found out that purple arrow is a cross of Hindu Kush and Purple Afghani. So if you get your hands on some regular seeds you could breed your own or at least try. Just make sure you read up on breeding so you don't get seed where you don't want them.
Purple arrow is 85% Indica and 15% Sativa. With 17% THC 24% THC and CBD around 3% – 4%. With an earthy, sweet, pungent, floral aroma. It takes between 45 – 60 Days to flower.
So if you can get your hands on this strain and you need pain relief from ranging moderate to sever pain this should be a staple in your medicine cabinet.
Please be aware that this site utilizes affiliate links. All this means is that if you click on a link and make a purchase, I may receive a small commission at no extra cost to you.
#3: Lavender
If in general you are a fan of Lavender flower you may enjoy this as well. The Lavender cannabis strain is a cross of a few different plant, starting with Big Skunk Korean, Super Skunk, and Afghani Hawaiian. Which in turn can get you a THC count up to 19% and 1% CBD.
Lavender is noted to help with different mental and physical conditions like Fibromyalgia, PTSD, ADD/ADHD, Anxiety and depression.
 Some people have used it for nausea and eating disorders here are a comments I found in the reviews.
"Lavender Kush is an awesome Indica. Nice mellow flavor. Good for Asthma. Not harsh at all. I use a vaporizer that uses a very small amount, . Got home at about 3:00, had a tube and haven't needed to medicate again. It alleviated the ripping Fibromyalgia pains in my back quickly! Thanks to the Bud tender that suggested it."
The Lavender strain is a medium difficulty plant to grow that has a sweet and floral style flower. The plant can reach anywhere from up to 78" tall giving you 3 to 6 oz per sq ft in 7 to 9 weeks.
4# Sour Diesel
Sour Diesel gets it's name from its buds giving off a fuel like smell. Sour D is dates back to the 90s. Being as cannabis in the 90s was an under ground market tracking the linage has a lot of people guessing. Saying how it's a cross between Chemdog and one of these choices, Super Skunk, and Norther Lights. Or possible even a combination of the three.
Never the less this beautiful strain of cannabis has medial patients that try it make sure its always on hand. From people suffering from daily chronic pain, anxiety and so much more. It's one of those strains you can smoke day or night. If you are even looking for a strain to help transition from chemical prescription, so you can get you life back this may be one for you. There are multiple reviews of people saying it helped them not be a pharmaceutical zombie.
With Sour D you can look forward to a THC count of 19% to 25% and a CBD count of 0.1 to 0.3. Although this strain is great on so many levels it can be a little tricky to grow and can reach more than 78" tall. With that said you should be able to get any where from 1 oz to 3 oz per sq ft in 10 to 12 weeks.
#5 CBDurban
CBDurban from Canuk seed has me wanting to try it myself. This strain is ideal for those suffering form chronic pain, muscle spasms, Epilepsy, Irritable Bowel Syndrome, Crohn's Disease, and Ulcerative Colitis. It also can act as an anti-convulsant for those living with Epilepsy and other seizure disorders.
The THC content is not really high so if you were looking for a good high THC strain this isn't for you, or just put the kief from your buster on it and see what happens. Coming in at 8% THC and 8% CBD. It is a 70% Sativa dominant strain.
If you are going to grow this plant you might want to check out the grow technique called SCROG. CBDurban responds well to SCROG as it can be a tall plant. You can flower this girl in 60 to 70 days. Once cured you can enjoy the flavor of CBDurban as a sweet, licorice taste and enjoy a relaxing sedative buzz.
#6 Tutankhamon ( A.K.A King Tut)
King Tut is a heavy hitter, with THC ranging from 23% up into the 30% or more depending on phenotype and grow conditions. This strain is not usually recommended for new smokers. If you are a new smoker , toss some in your favorite pipe , take a few tokes and see how you feel.
King Tut, I have found to be good pain reliever a when used as a topical when infused in grape seed oil.
Just a note to anyone going to make infused oils for topical use. When looking for an oil to use look for base oils typically used in massage. The reason for this is that using some oils like coconut oil, doesn't really penetrate deep to the muscles and is really only good for surface issues. It will work for some pain relief just not as effective.
Tutankhamon is a decedent of AK-47 with the sour skunky smell and a hint of fresh fruit and flower when smoked giving you a nice daytime sativa effect. Known also for helping with pain, depression, uplifting, and opening up ones creative side if your not to ripped.
If you are growing this for yourself king tut from true north seed is a great mother plant. As she give you tons of branches to clip off for clones. It is classified a medium difficulty plant to grow. She stays fairly shot stretch under 36" tall with beautiful sweet fruit smelling nugs. In proper growing conditions you should be able to get 1 oz to 3 oz per sq ft in 7 to 9 weeks of flowering. If your not keeping a mother plant you will really need to train this plan as soon a you can. You will probably want to look into the grow technique SCROG as she can get out of control with all the branches
#7 Critical Kush
Critical Kush has a spicy, earthy, and skunk aroma that will wash away your over worked and stressed mind. This is thanks to the 25% THC and the dose of 1.8 CBD to help bring your body and mind back down to earth and into the moment that your in.
This strain is know for helping people suffering from pain, stress, insomnia, muscle spasms and more. Not recommended for a day time use strain as it is really calming. So with that said if you got someone with angry issues then this may just be for them as well.
Flowering time is 7 – 9 weeks. To can average a THC count around 20% under moderate growing conditions and tested 29% at the highest end. Now you will want to be aware if you are choosing to grow this it is a stinky plant and you will want to take appropriate action to keep it a secret. Same goes for smoking it. This plant will fetch you between 50 to 60 gr per square foot of plant.
#8 Blue Dream
The California originating Blue Dream is a sativa dominant hybrid. This plant hit the west coast by storm being sold in almost every dispensary, which is good for a number of reasons. Here's why. First off patients suffering from pain, nausea, depression, anxiety, you name it everyone was happy with the results after using it. Reviewed as being the aspirin of cannabis. Good day time use strain for those looking to medicate while still going out and enjoying your day.
Blue Dream is a cross between a blueberry indica and a sitiva haze. You can look forward to having a THC count between 17% – 24% and a CBD count of 0.1% -0.2%. With that being said you will find the flavors of a sweet berry and blueberry. As for growing this plant it would be classified as a medium difficulty to grow. Defiantly a plant you will want to start training right away as it is a monster plant getting over 78" tall. I would recommended looking in to low stress training or S.C.R.O.G training. With all the effort of training you can get yeilds from 3 to 6 oz per square foot.
#9 Lemon Skunk
With a name like Lemon Skunk you know it is going to be a pungent lemon aroma coming from your container when you open it. Lemon Skunk is a good sativa that has made the High Times Top 10 is in 2009.
With its cerebral uplifting high you can expect to have your creativity side sparked and your pain diminished.
As your medication sets in you will start to feel a body buzz kicking in. With the numbing effect through out you body, you can feel energized and ready to tackle what is ahead in your day. Not only is it good for pain but also great for stress, anxiety, and depression.
For those looking to grow this plant, this is a moderate skill level to grow and can produce great yields both indoor and outdoor. She can can stretch pretty far so those with limited space beware when you flipp to flower and grow ofer 78" tall. Flowering time is anywhere from 7 to 9 weeks and can produce 3 to 6 oz of cannabis with a THC count of 22%. Happy growing.
#10 Purple Gorilla
Last but not least here is Purple Gorilla. This bud is an Indica dominate strain know for its distinct violet colour and oversized buds. With its aroma being a perfect blend of sweet grape, cherry, and citrus. But don't let this strain fool you it can leave you with some serious couch lock, feeling of time delay, and would likely be best if your not planning on doing much that day. Better yet you may want to smoke this at the end of a long stress filled day.
Don't think just from the couch lock its not good for your pain, because it is. Due to its relaxing qualities it can leave you feeling very relaxed and pain free. Also being know to be good in aiding in head aches, nausea, people suffering form anorexia or even going through chemotherapy needing help getting an appetite.
For those growing this plant can find an Auto Flower Purple Gorilla here. It has a 9 – 11 week from seed. As you may know auto flowering plants tend to stay small, as this plant get anywhere from 24" to 40" tall. You can expect to bring home a yield up to 10 oz per plant that can hold a THC count of 23% and up.