Did you know that regularly taking Epsom salt baths can provide you with a multitude of health benefits? Keep reading to learn why epsom salt baths are good for you.
Extracted from the dried and powdered magnesium sulphate crystals found in the Dead Sea, Epsom salt has been used for centuries. It was first discovered in Magnesia, Greece and later established itself near and around the town of Epsom in Surrey, England.
Epsom salt is something I've fallen back on many times to soothe the pains of everyday life. Epsom salt baths have been my go-to for those times when I am suffering from Fibromyalgia pain and inflammation or just want to relax my tired, achy muscles. I also want it noted that these SMELL AMAZING! For real! This was the ultimate self care experience. 
DISCLAIMER: This post was sponsored by Dr. Teals. 
Epsom salt is also known as magnesium sulfate. It's a chemical compound made up of magnesium, sulfur, and oxygen.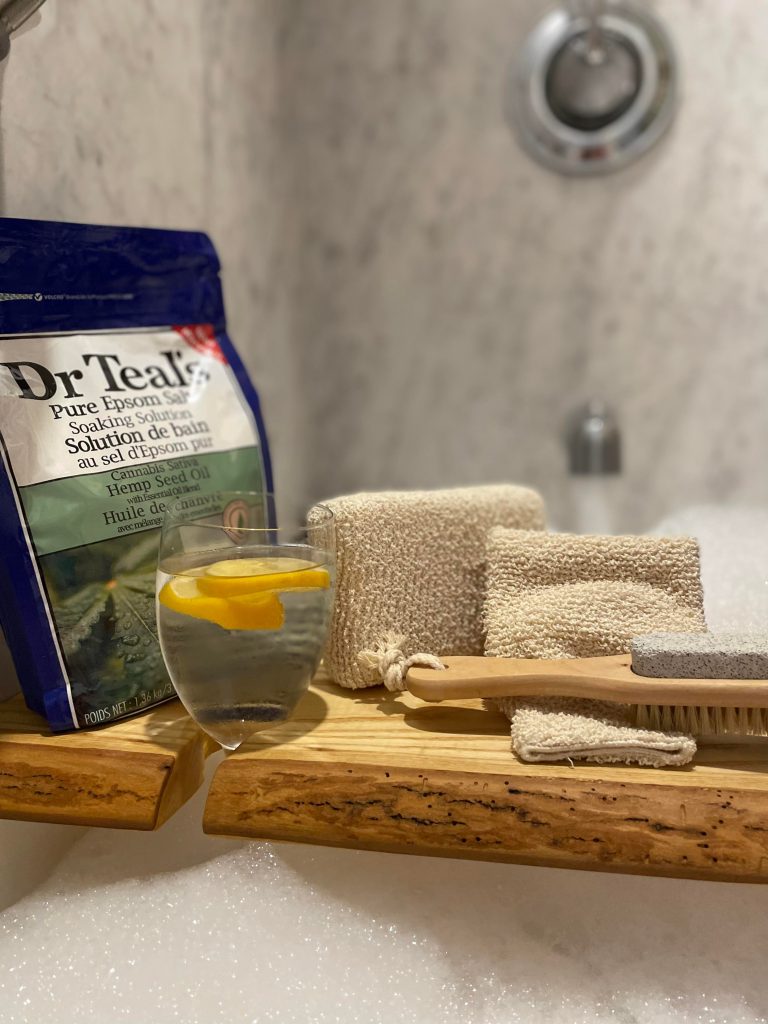 Epsom Salt Health Benefits
Detoxifies

Relives Inflammation

Stress Relief

Healthy Skin

Good Bone Health

Reduces Foot Odor

Helps remove splinters

Healthy nerve function
Most of the reported benefits of Epsom salt are attributed to its magnesium, a mineral that a lot of people do not get enough of. The magnesium in Epsom salt is known to be able to help regulate the electrical signals our nervous system relies on. It can also help the body to use calcium effectively, which helps to conduct these electrical signals.
Are epsom salt baths good for varicose veins?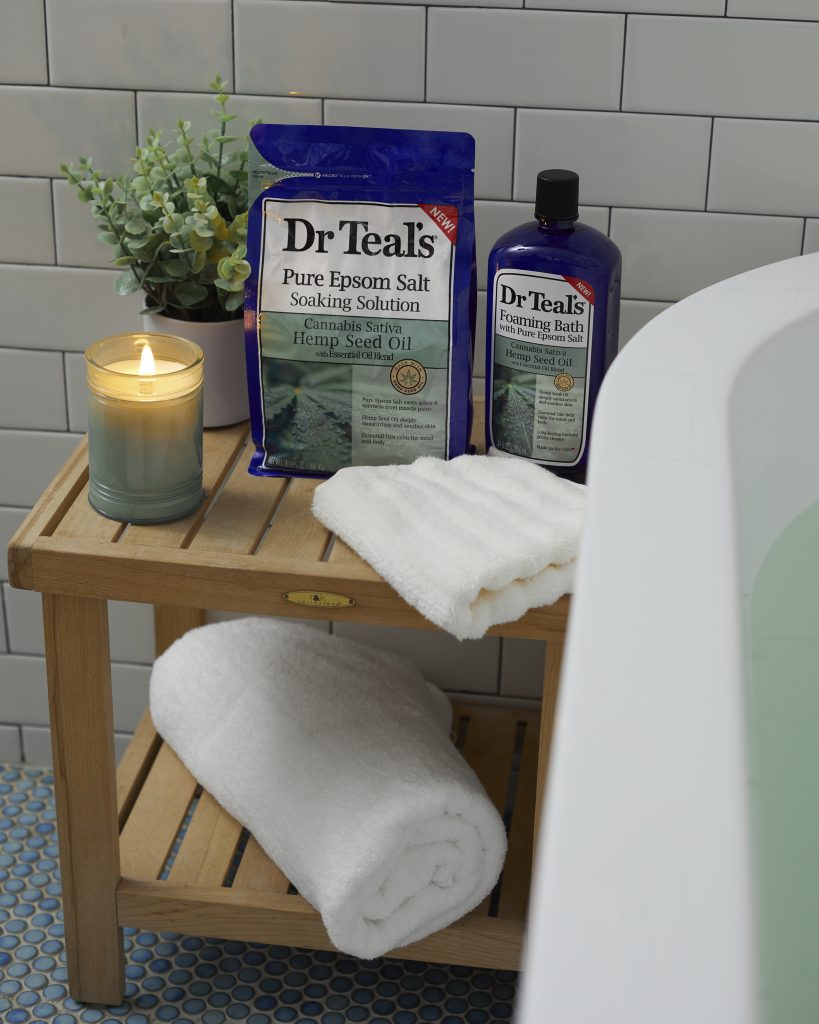 Epsom salt may help improve the blood circulation, reduce inflammation, and decrease varicose vein size. It can improve magnesium deficiencies in the body which are important for tissue development.
How epsom salts help muscles
Epsom salt contains magnesium and may help the body get rid of toxins responsible for exacerbating inflammation while also reducing swelling, stiffness, and pain.
Can you use epsom salts when pregnant?
Pregnant women have been using Epsom Salts for ages to combat swollen feet, hemorroids and to simply relax.
.
How often Can I Use Epsom Salts?
The recommended usage is 2-3 times per week.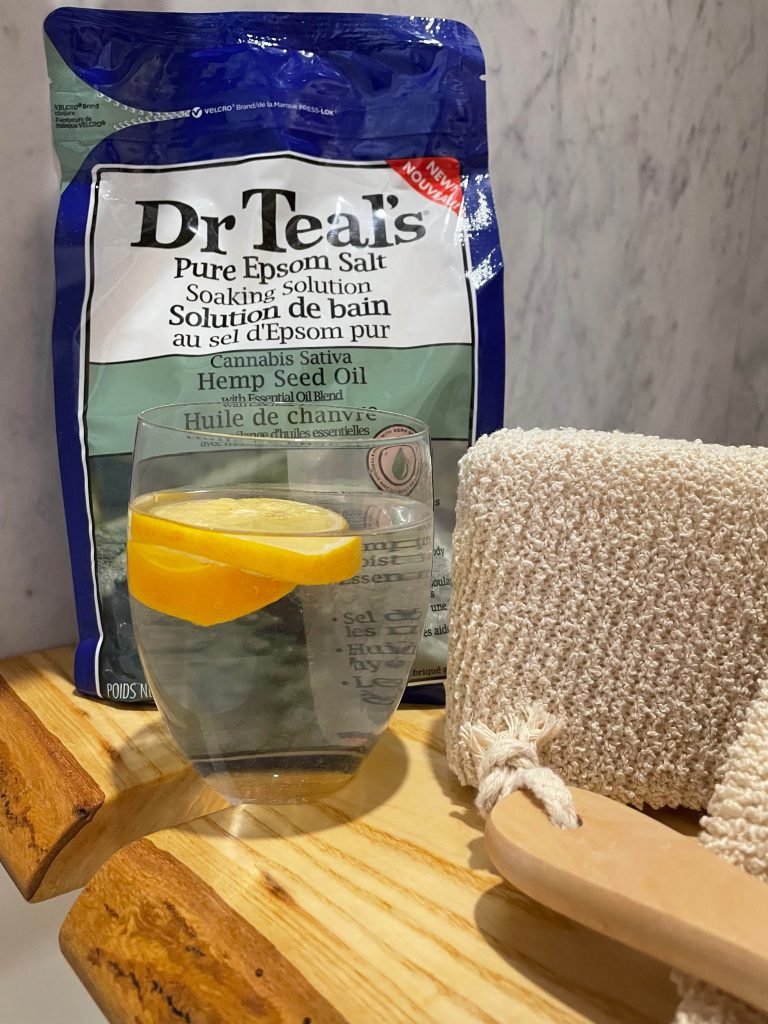 Through reverse osmosis, soaking in an epsom salt bath will allow your body to rid itself of excess fluids and release heavy metals that have been absorbed by the body. Pour 2 cups of your favorite Epsom Salts , I use Dr. Teals Cannabis Sativa Hemp Seed Oil Epsom Salts. They are moisturizing and smell great! The added essential oils provide that level of aromatherapy that helps you easily relax and soothe your body, mind and spirit. Use this therapeutic epsom salt to remove swelling and ease inflammation.
FIND THESE PRODUCTS AT YOUR LOCAL SHOPPERS DRUGMART!

Dr Teal's Hemp Seed Oil Pure Epsom Salt: Combines pure epsom salt (Magnesium Sulfate USP) with hemp seed oil. It does not contain CBD & THC.

Dr Teal's Hemp Seed Oil Foaming Bath: Hemp seed oil which moisturizes and nourishes skin and white thyme, cedarwood and bergamot essential oils help calm the mind and provide stress-relief. It does not contain CBD & THC.