Have you been struggling with your Blog? Want to know my secrets? I am going to share EXACTLY how you can grow your blog and build that online business you thought was only a pipe dream!
The first thing you are going to want to do is to sign up for a Pinterest Business account. Read my post here on how to get more of your pins re-pinned.
Disclaimer: This site utilizes affiliate links. What this means is that if you click on a link and make a purchase, I may receive a small commission at no extra charge to you.
The Second thing you will want to do is invest in some courses on Pinterest Marketing & Blogging. I also strongly recommend investing in Tailwind , my blog wouldn't have nearly the reach it has without it and makes it very easy for me to manage other accounts as well.
My Recommendation on Marketing Courses?
Marketing Solved! If you are not familiar, it is run by Kat Sullivan who is THE Princess of Pinterest!
Kat has been recognized as the social media expert behind-the-experts having worked with numerous celebrities, professional athletes, television shows, and bestselling authors.

And of course , my course Pinning For Profit 2.0 will be a big help in learning how to find your targeted audience and brand yourself.
There are a couple of things you should know when creating your business and it is best if you learn this right from the beginning …
#1 Mindset is KEY!  If you want success in your business you will need to invest in it ! Which leads me to #2, if you are not clear on what it is that you want, then you need to work with someone who has the knowledge base to help you figure that out as well as help you get crystal clear on what it is you want to accomplish.
Set those goals! Write Them Down! Achieve Them!
I recently picked up a copy of 20K in 20 Days and was blown away by the amount of value in this little gem!  It was full of golden nuggets! Kat has an AMAZING selection of courses, tools & services on her website and will show you how to supercharge your online business & marketing.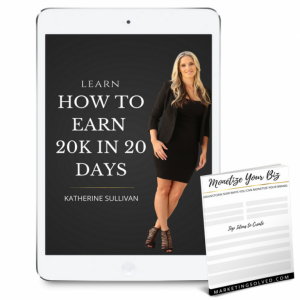 You can get a Marketing Solved monthly membership that provides you with a done for you marketing system. I am a huge advocate of things that automate my business, save me time and increase my profits and believe me when I tell you that you can learn everything you need to know about Marketing @MarketingSolved. Kat has an uncanny knack for simplifying things!
I had the pleasure of participating in One of Kat's webinars last week and again was blown away by the amount of value she packed in it!
I recently made a quick video showing Kat's new Social Media Marketing Tool . You can watch it here