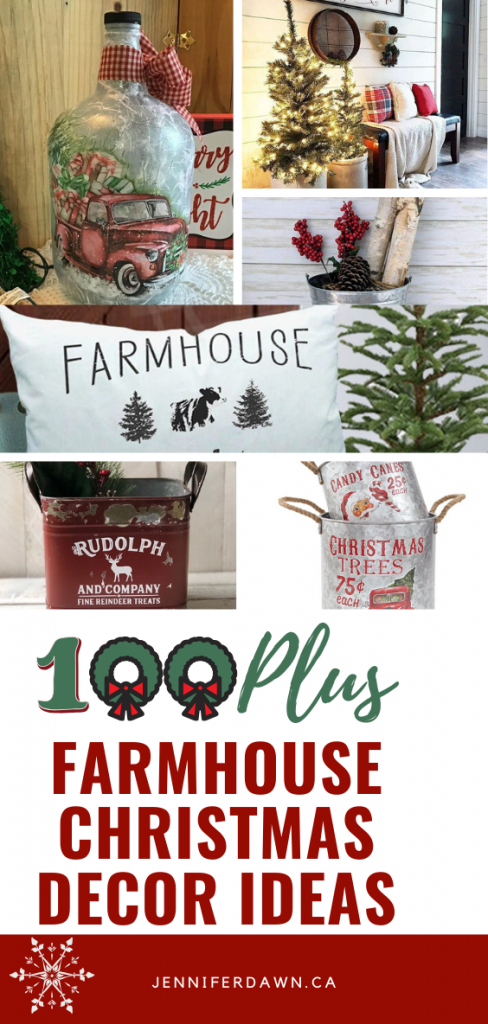 In spite of the cold, I do love to decorate for the Holidays! And if you are anything like me , then you look forward to adding new rustic farmhouse decor pieces to your ever growing collection of vintage Christmas decor! And as a result, I have gathered 100 Plus Farmhouse Christmas Decor Ideas that are sure to add a few new gotta haves to your own Farmhouse Christmas Decor wish list!
Front Porch Farmhouse Christmas Decorations
I love to look at how other people decorate their front porches during the holidays. 
I could get lost for hours on Pinterest just looking at farmhouse Christmas decorating ideas. From diy farmhouse christmas tree decorations , to farmhouse christmas decorations for mantels.
Not to mention:
Custom printed farmhouse christmas decor ideas
DIY Farmhouse Christmas Signs
Farmhouse Christmas Decor On A budget
Farmhouse Printables
Front Porch Farmhouse Christmas  decorations  , and don't even get me started with the holiday recipes.
Please be aware that this site utilizes affiliate links. All this means is that if you click on a link and make a purchase, I may receive a small commission at no extra cost to you.
I love to incorporate as much burlap, mercury glass and rusty vintage decor items in to my Holiday decor as I can.   For instance, beautiful worn christmas enamel dishes, Galvanized Christmas tree tubs, chippy , rustic and nostalgic… just how I like it!  Combine that with some fresh green elements and you can just smell Christmas joy in the air!
DIY Farmhouse Christmas Printables
Without a doubt, Farmhouse Christmas Printables are one of the easiest DIY Christmas decor projects to do. You can easily create beautiful christmas decor within minutes with printables.
Additionally, these make great DIY Christmas gift ideas, print off as many as you need and pop in a frame and voila! Instant Christmas gift idea on a budget! 
I have always loved to make my gifts when I have had the time … and as a result, I typically have a wide assortment of craft supplies on hand but a quick visit to Michaels or Amazon and I can get what I need! 
You can get some really awesome things at the Dollar Store too that you can diy to make look like it came straight off the shelves at your favorite home decor store!
Personalized Farmhouse Christmas Decor
There are tons of options available for personalized farmhouse decor. These make really great Christmas gift ideas that will be enjoyed for years to come! You can choose from personalized Christmas pillows, to personalized Christmas signs and dishes.  Of course, one of the best places to find personalized gift ideas is Etsy. 
Alternatively, some other great finds can often be found on Amazon. ( Don't forget to use Rakuten Cash Back when shopping online) 
Beautiful Farmhouse Christmas Mantel Decorating Ideas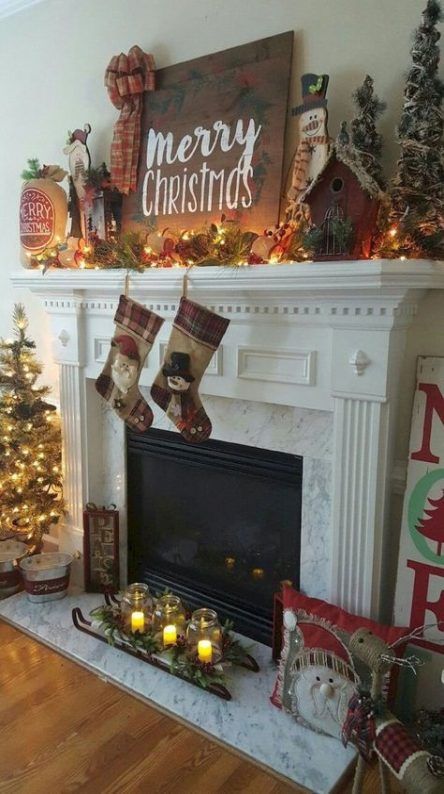 Sitting by a beautifully decorated fireplace mantel at any time of year is amazing, however, Christmas is an especially magickal time to do so! 
Curl up with your favorite book and a cup of hot cocoa while you admire the fresh boxwood arrangements, rustic ornaments and primitive Christmas sign that hangs above the fireplace. 
Perfectly rustic stockings over flowing with Christmas goodies and the smell of fresh cedar and smoke …. sigh… Christmas is certainly a time of peace and joy.
RELATED CONTENT YOU MIGHT ENJOY:
http://spirited-mind.wp11.staging-site.io/how-to-throw-the-ultimate-ugly-christmas-sweater-party/
http://spirited-mind.wp11.staging-site.io/how-to-create-the-perfect-farmhouse-christmas/