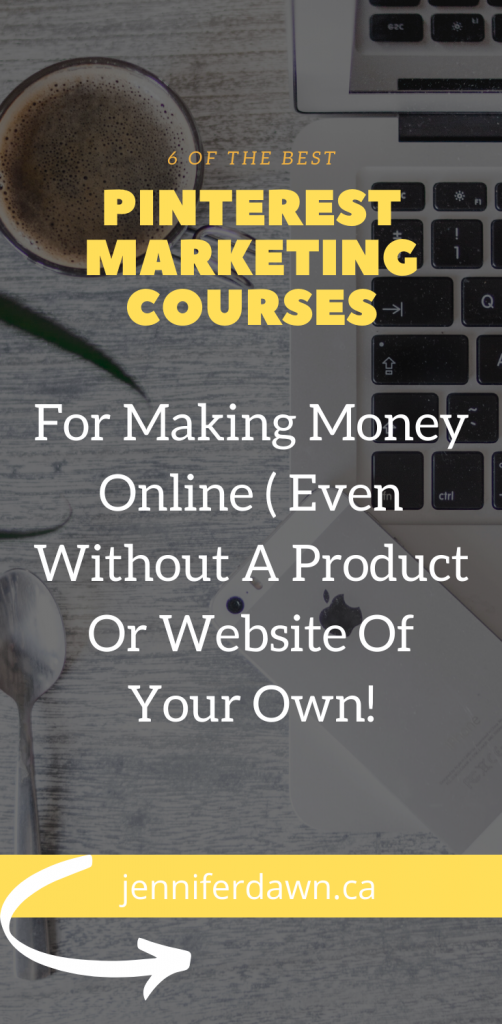 Whether you are a beginner blogger , entrepreneur , coach or have another online business, you will want to check out 6 Of The Best Pinterest Courses For Making Money with an online business. 
Regardless of which one of these courses you choose, you can't go wrong! Each course is jam packed with valuable information on how to effectively market your business with proven Pinterest marketing strategies.
These are all courses that I personally recommend! I have taken my fair share of marketing courses over the years and these are definitely my Top 6!
Learn Pinterest Marketing Strategies from the best of the best! 
Please be aware that this site utilizes affiliate links. All this means is that if you click on a link and make a purchase, I may receive a small commission at no extra cost to you.
This course really got me started with my love of Pinterest Marketing. Firstly, Kat Sullivan is a brilliant marketer and business woman. Secondly, her courses are all very well laid out, easy to understand and implement. Above all, she is an amazing mentor and I am proud to be one of the founding members of her Inner Circle. She is unquestionably the Princess of Pinterest.
Pin Funnels explains step by step how to use Pinterest as A Sales funnel to grow your business.
Discover the formula to unleash enormous amount of qualified visitors to your website, triple your leads and subscribers, and skyrocket your SALES!
On Autopilot. 
Without spending a ton of time or a ton of money.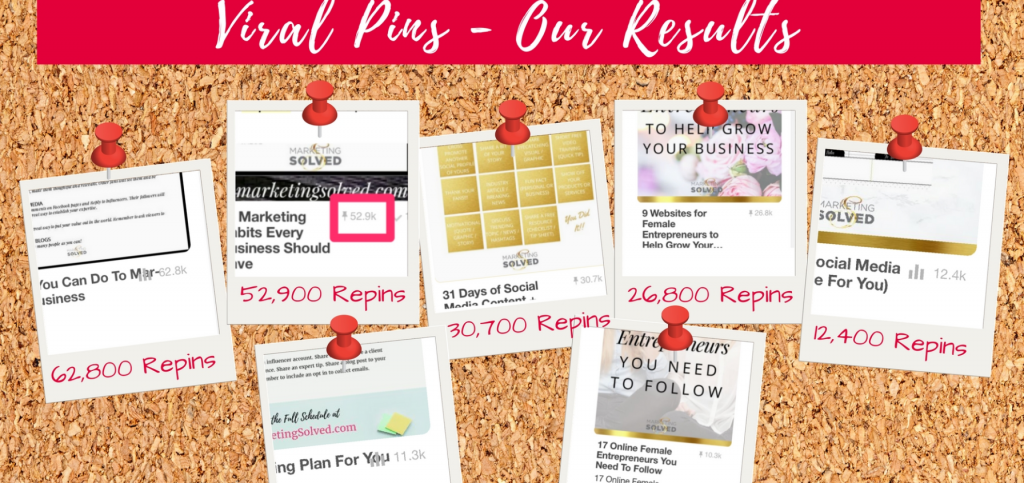 Monica from Redefining Mom has the BEST course that teaches how to run profitable Promoted Pin campaigns on a budget.  Moreover, how to get targeted traffic to your website for pennies per click!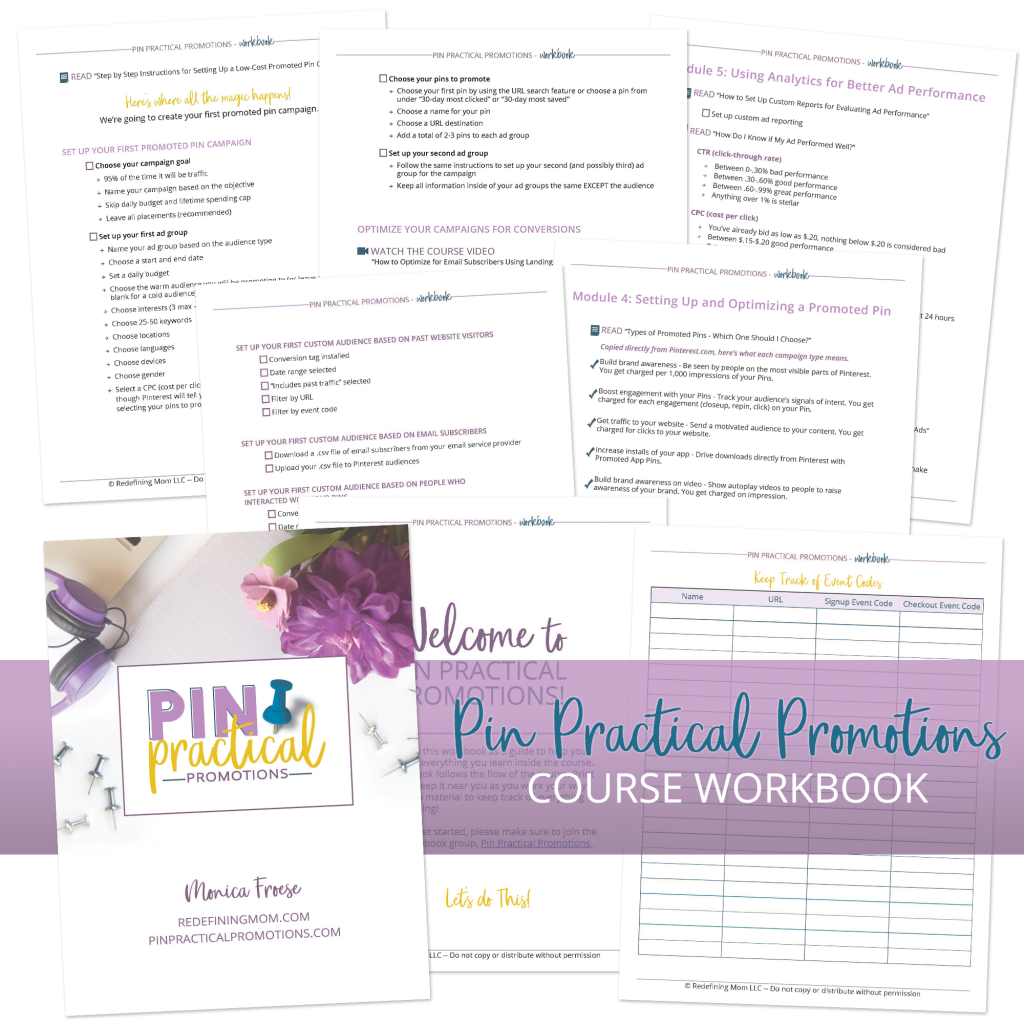 She takes you on a step by step walk though to help you create a proftable Pinterest marketing campaign.
Additionally, I love that she teaches you how you can advertise your website even with a small budget.
Lena is amazing when it comes to analytics and organizing! #Ibowdown Not to mention, She created this awesome spreadsheet to help you keep track of your Pinterest pins. As well as where they have been pinned. Without a doubt, this spreadsheet will help keep you more organized.
She is the queen when it comes to SEO and proper keyword research. You can check out some of the freebies she has available to help you grow your blog! 
Unlike other Pinterest  courses, Carly's course is very unique in the fact that she focuses on a manual pinning strategy that does not use Tailwind or any other Pinterest scheduling tools. 
She shows you why why manual pinning should be a part of  your Pinterest Marketing strategy, especially if you are a beginner blogger! I believe she has perfected the manual pinning strategy!
Additionally,  Carly also teaches one of the best ways to combine affiliate marketing in to your online business.  And as a result, increase your income online!
Chelsea is a powerhouse when it comes to savvy business marketing. Learn the very strategies she has used to grow a 6 Figure business.  Her PaperRoute is the one of my go to marketing resources , when you are learning from Chelsea, you are learning from one of the best in the field! Chelsea always over delivers!
Most importantly, as a result of Chelsea's expertise, you will be driving targeted traffic to your website. In other words , hungry buyers will be seeing your products and services.( the very ones they have been searching for!)
Kerrie teaches you how she grew to over 14 Million, yes I said 14 MILLION monthly viewers on Pinterest in only a few short months and grew a profitable business on Etsy.
If you are looking for beautiful Pinterest templates, she is your girl! Her beautiful templates will help you easily create viral pins!
Join over 1300 other students who have gone through the Pinning For Profit Course . Learn how to drive massive, organic traffic to your website, products and services with proven Pinterest Marketing Strategies.
Certainly, these strategies will work even if you do not have a product or website of your own,.Earn passive affiliate commissions with Pinterest.
RELATED CONTENT YOU MIGHT LIKE: 
http://spirited-mind.wp11.staging-site.io/the-best-social-media-templates-to-brand-your-business-like-a-pro/
http://spirited-mind.wp11.staging-site.io/how-to-get-more-of-your-pins-re-pinned/