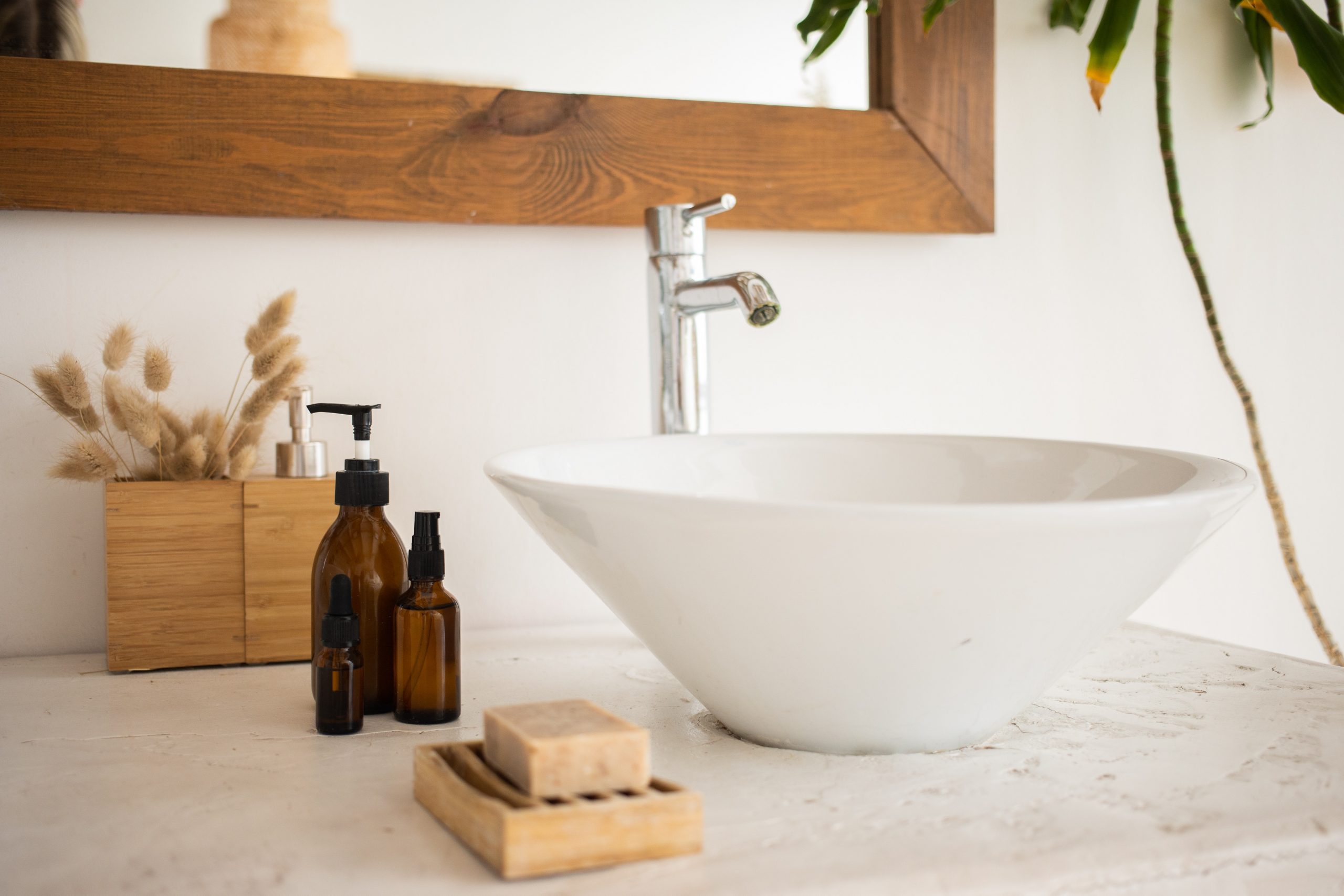 Ditch the chemical laden , store bought room and linen sprays and make your own DIY Room spray with essential oils.
If you have been following me for any length of time, you likely know that several years ago I made a conscious decision to start replacing the toxic chemical laden products in my home with healthier and more natural versions.
In many cases , I make my own and while it is a part of my business selling ready made products, I believe everyone should have the option of making their own products as well.  Affordability can be an issue when it comes to buying healthier , more natural products but you can easily make your own with quality, budget friendly essential oils and some staple ingredients that you can buy off of Amazon.
DISCLAIMER:: This website utilizes the use of affiliate links. All this means is that if you click on a link and make a purchase, I may earn a small commission at no extra cost to you.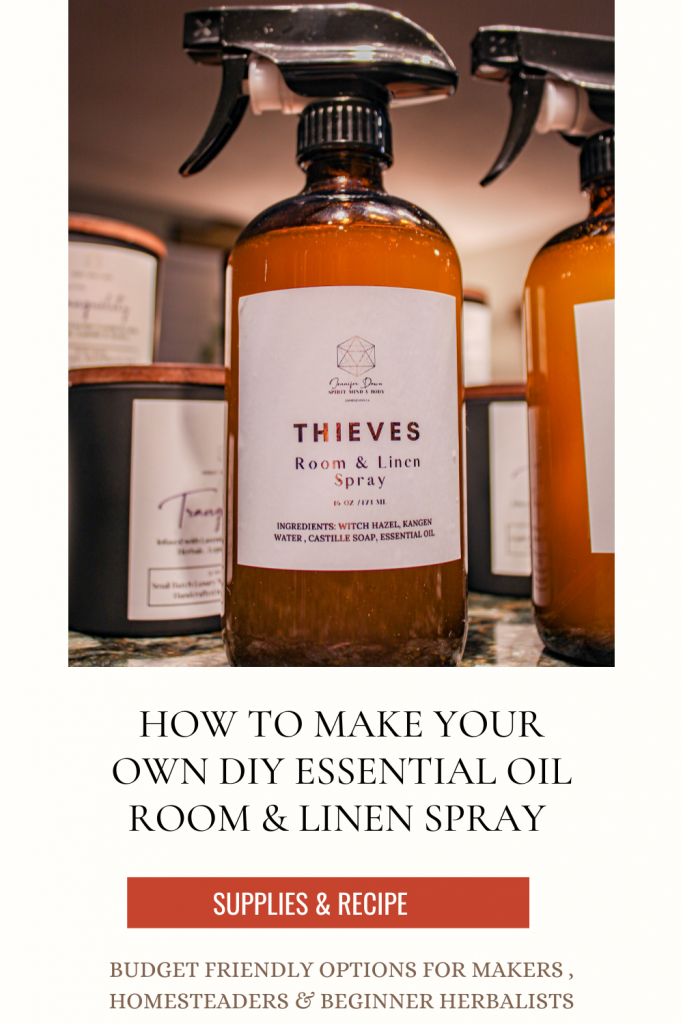 These DIY Essential Oil Room Sprays, can also be used as a Linen Spray to freshen up your sheets, as well as add a antibacterial and antimicrobial benefit. ( Depending on the essential oils chosen.)
I will share with you some of my favorite essential oil recipes and essential oil blends that you can use to make your own diy linen spray.
Many people have been asking me to share my recipes over on TIKTOK and I have also heard that people need a more affordable option than the MLM Option that I have been using for years. And while I do believe they are some of the best quality oils, they are not within everyone's budget . 
I have also heard you when you said you wanted a quality option that did not require you to be on a monthly autoship! I get it! 
Contrary to popular belief, there is more than 1 great essential oil company, but I definitely have my top 5 and will be doing some side by side and price comparisons very soon.
I recommend have a few different sized amber glass bottles. 4 oz bottles are great for travel and small gifts, 8 oz are great sizes for bathrooms and the 16 oz bottles are especially great for the Linen Spray , as you will find you go through more refreshing your furniture and linens.
AMBER GLASS BOTTLES
PIPETTES
GLASS MEASURING CUP
WITCH HAZEL
DISTILLED OR KANGEN WATER
LIQUID CASTILLE SOAP
LABELS
How much essential oil should I add to room spray?
My general room of thumb is 1/4  witch hazel to water ratio.  And a really easy way to measure for those who do not have a scale is to use measuring cups. There are 8 oz in a cup of liquid, so you would be able to make an 8 oz spray or two 4 oz bottles.  Double the recipe to fill your 16 oz bottle.
My recommendation for the essential oils is to use approximately 30 drops EO for a 4 oz room spray.
(Note: Witch hazel helps the oil and water combine and will help the scent linger for a longer period of time.)
I also add a drop or two  of liquid castile soap to act as an extra binder and emulsifier.
We use amber glass bottles for a few reasons, first to protect the essential oils from degrading through light , as well as to make sure that essential oils aren't eating the plastic, there are no leached chemicals from plastic and glass bottles can be recycled over and over again!
Essential Oil Room Spray Recipe
1/4 cup witch hazel
3/4 cup distilled or Kangen water
drop or 2 plain Liquid Castile Soap
40-60 drops essential oil ( based on personal preference)
DO NOT USE RUBBING ALCOHOL to make sprays!
Mix together all of your liquids and then add essential oils and stir with a non metal spoon or whisk. I will often just make a batch of plain room and linen spray base and add essential oils to the bottle and give it a little shake. This way I can make several different scents.  
This will fill two 4 oz bottles, so I would put 20 -30 drops of essential oil per bottle.
RECOMMENDED ESSENTIAL OILS & BLENDS
I honestly could go on and on because the variety of oils available at Revive Essential Oils truly is unmatched! You can save even further by choosing a starter kit .
You can also save by building your own kit and choosing the exact oils that you want.  USE CODE JENNIFERDAWN TO SAVE ON YOUR ENTIRE ORDER! 
With Revive you can order as little or as much as you want , no monthly autoships and they are less expensive because they are not having to pay on out tiered levels like an MLM. They use the same 3rd party testing that has been used by all of the bigger, more commonly known essential oil companies.  They also carry many of the other supplies you would need to make your own DIY Products. ( And several version of many well known higher priced blends) I have to take a minute to shout out their Version of Young Living's Abundance Essential Oil.  
Bring your DIY to a whole new level with professional looking labeling. Etsy has a number of different templates you can choose from and they are big time savers if you do not want to spend a ton of time designing a label.  These labels are a great idea especially if you plan on giving these out as gifts or selling.