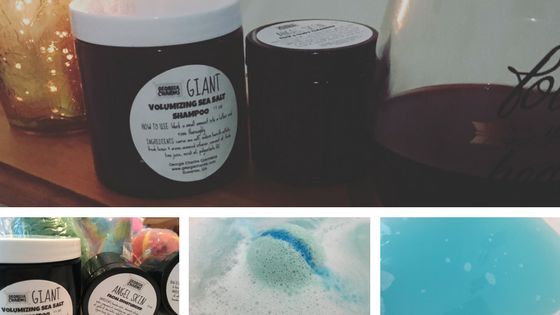 It has been a crazy busy week for me (what else is new? )
Between launches,working on course creation, creating new content, curating Boards, new clients and my every day tasks this week ..well I have been pooched!
So how do I relax after a long day? A nice long soak, a glass of wine and some meditation!
Thankfully one of my tasks this week was testing out some products From an Etsy Store called Georgia Charms.
Some of you may know that before I became a Blogger I had owned a Candle & Gift Store that was mainly handcrafted items. I am a HUGE Etsy fan and love to support smaller businesses , especially ones that focus on handcrafted products. And if they make products similar to the ones I used to make ..well ya, I am a tad bit biased.
I love testing out products .. I am a product Junkie!
Fact #1 – I Love Lush Products!
Fact #2 I LOVE Duplications of Lush Products even more!
I find that the smaller store owners really put some love & creativity in to their products. And Georgia Charms has some AMAZEBALLS dupes of some Lush Favorites.
I had the chance to test a few of her gems this past week , which was a really nice end to a long day … a few times!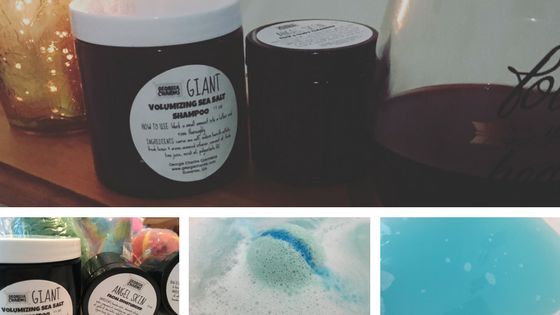 So How Did The Products Compare?
To be quite honest with you … all of Georgia Charms products were better than the Lush Products that I have tried ..and remember.. I am a Lush Fan. This Girl knows her formulations!
The Giant Volumizing Sea Salt Shampoo did wonders for my hair! I never really had god second day hair and this shampoo not only gave a little lift to my baby fine hair but kept it from getting oily by the next day. Oh and it smells devine!
The bath bombs seemed to fizz forever and the bubble bars created a bubble bath like no other. I only used half as much as I would have of a Lush Bubble Bar and got twice the amount of bubbles! And again the smell … soooo good! The Tardis Bubble Bar was my favorite one of all and is really a Unisex kind of scent. Unicorn Horn was a light feminine fruity smell (Lovespell Dupe) and again crazy bubbles!
The Angel Skin Soapless Cleanser combined with a facial moisturizer by the same name has really evened out my skin tone . I don't believe she has the moisturizer listed yet but hopefully she will list it soon because it is a winner!
I did an unboxing video which you can find on the sidebar. Do you want a review of the additional products that were in the box? Which Products do you want to try?