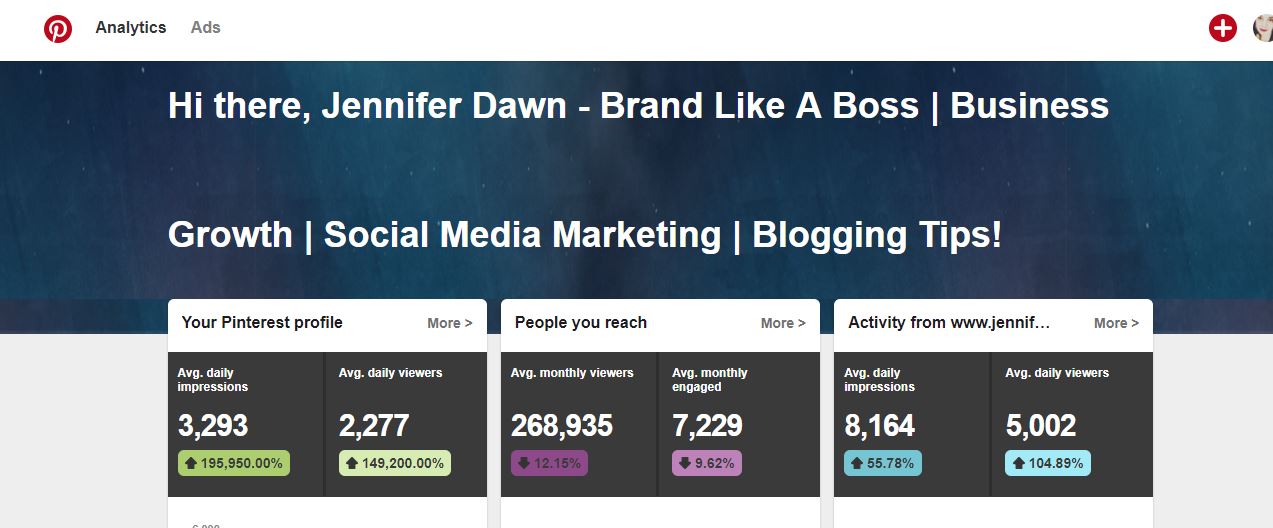 What if you woke up one morning and the Pinterest Account you have had since the existence of Pinterest had just disappeared? Was my Pinterest Account Suspended & How do I recover my Pinterest Account? Well, I can tell you exactly what to do because it happened to me and this is how I recovered when my Pinterest Account disappeared.
To this day I am still not entirely sure what happened or what exactly caused my Pinterest Account to disappear. All I was told was sometimes good accounts get caught in the mix. Not exactly certain what that means but I am extremely grateful that my account was restored! However, all of my data was wiped out!
So what do you do when something like this happens?
#1 – Don't wait for Pinterest To Fix The Issue – I knew issues like this could take some time to fix, Let's face it, people, this is the internet and glitches happen all of the time! There really isn't a whole lot you can do about it but you can try and safeguard some of your hard work. As soon as I had emailed Pinterest Support to notify them of the issue, I created another account for My Business. I started by creating Boards I already knew were popular from my old account and added some new ones that I wanted to test as well. I then started creating pins and pinning content I knew to be popular.
So was my Pinterest Account Suspended? Why Did My Pinterest Account disappear?
I knew right away that there was some sort of glitch because everything I did was resulting in an error and when I would submit a ticket, I would never receive a response. After several tickets and emails, I finally received a notification that my account was suspended for spam and that the decision was final. Excuse me?WTF?Being the persistent person that I am ( I really don't give up easily) I sent off several more emails inquiring as to why this happened. I knew I was not spamming, I was an established account with almost a million monthly views! And I TRULY wanted to know why this had even happened so that I could try and prevent it from happening again and save some other's some grief along the way! All I can say is glitches happen … just move on BUT Don't give up! Had I not persisted my account would not have been restored. And the reason I wanted it restored was because I wanted the stats on my viral pins!  You can see several of them here on one of my boards and I also had many that reached 2k and 3k repins!
"Every Had A Pin Go viral? Ever suddenly had your Pinterest Account disappear? I can relate because it happened to me! Keep reading to find out how I recovered my Pinterest account and what you can do if this ever happens to you! How to recover Pinterest Account // Unsuspend Pinterest Account // My Pinterest Account Disappeared // Pinterest Account Suspended // Pinterest Account" My Pinterest Account Disappeared , How To Recover Pinterest Account" title_text="Another Viral Pin! How do you recover this if your Pinterest Account gets deleted? How To Recover Pinterest Account // Unsuspend Pinterest Account // My Pinterest Account Disappeared // Pinterest Account // Pinterest Account Suspended"
#2 Once Your Account is Restored – Back up your content! – I know I will be prepared should my Pinterest Account disappear again! ( And I now get to do some additional testing and use myself as a case study while I build several accounts because I have the knowledge to do so! I bet you are wondering where I acquired all of this knowledge?  To be honest I have picked up bits and pieces here and there but have gotten the most value from Marketing Solved and The Inner Circle! Once you figure out this whole marketing thing, it is really quite easy to duplicate! I applied the same strategies and was able to grow the Pinterest account for Lipsticks & Lavender to almost 200k in less than a month!
It really doesn't matter what niche you are in there are proven strategies to get your product or service in front of a targeted audience. I'm curious , do you know who your ideal target audience is?