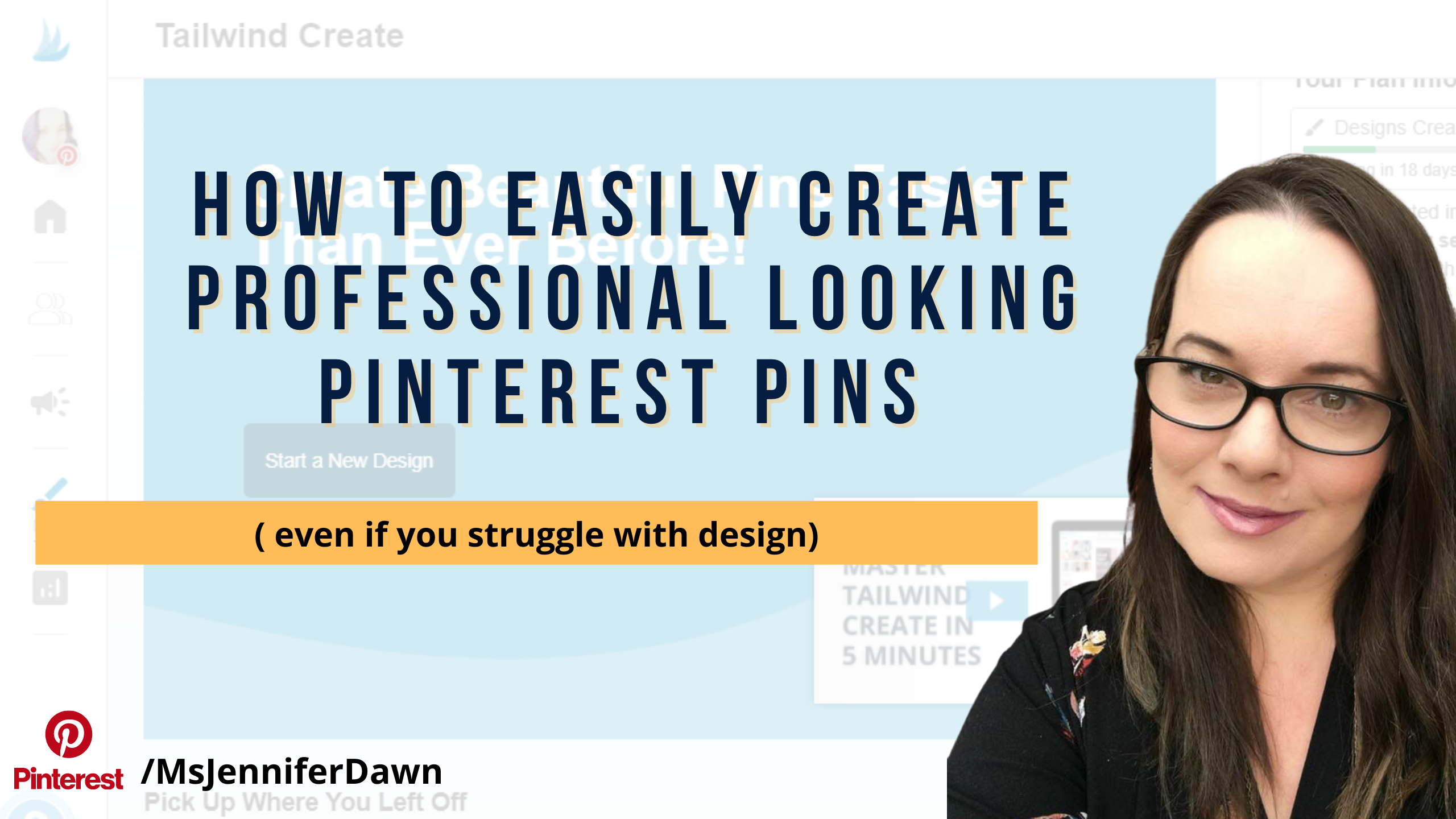 If you have been struggling with how to Pin on Pinterest, especially when it comes to how to design professional looking pins … I GOT YOU!
Disclaimer: Jennifer Dawn utilizes the use of affiliate links. All this means is that if you click on a link and make a purchase , I will earn a small commission at no extra cost to you. I will be compensated by Tailwind. Please know that this is a program I love & have been using for years. All opinions are 100% my own
Learn How To Create Professional Looking Pinterest Pins ( even if you suck at design! )
For many entrepreneurs and small business owners , actually marketing their business is where they tend to fall short.
When you add in Pinterest marketing to your digital marketing efforts, you will notice (when done right) that marketing your business becomes almost effortless and you are benefiting from evergreen, organic traffic to your website.
This ultimately results in increased leads and sales for your business!
Each One Of The Pinterest Pins Below Were Created With Tailwind Create
The Possibilities Are Endless & It Makes Creating Fresh Pins A Breeze!
Watch the training video below to see just how easy it is to create professional looking, click worthy pins with ease!
Small Business Digital Marketing Tips To Make Money With Pinterest
I will admit it … I LOVE to design! This is why I also offer website design, sales funnel design and social media marketing graphics. BUT not everyone has an eye for design, in my years of marketing on Pinterest I have seen some pretty ugly pins! Honestly, when I look back even some of my first Pinterest pins were not up to the standards that I have now.
And although there are many ease to use programs out there for designing Pinterest pins, Tailwind Create is hands down my favorite method when it comes to creating pins! ( Really… I am kind of Fan Girl over this one!)
With Tailwind Create you get beautiful, professional looking pins every time!
Even with an eye for design, this program saves me so much time in creating pins for my multiple websites and client accounts.
And because I already use Tailwind to schedule out my Pinterest content, it is a no brainer for saving even more time because I can design and schedule out my pins on the same platform without having to design and then download to my computer and then upload to Tailwind to schedule.
Seriously, I could kiss the designer of Tailwind Create … ( If you think I am kidding, just ask my husband how much I gush over this program! )

How To Use Pinterest To Make Money
Tailwind Create is also a great tool for creating click worthy pins for your affiliate marketing partnerships.
Have an Etsy Shop? Use Tailwind Create to create stunning pins to attract people to your Etsy store as well as to use as the images in your shop to make it super simple for people to pin YOUR content to Pinterest. Making it easy for people to promote you organically.
Want to learn more about how to make money with Pinterest? ( Even without a Blog)