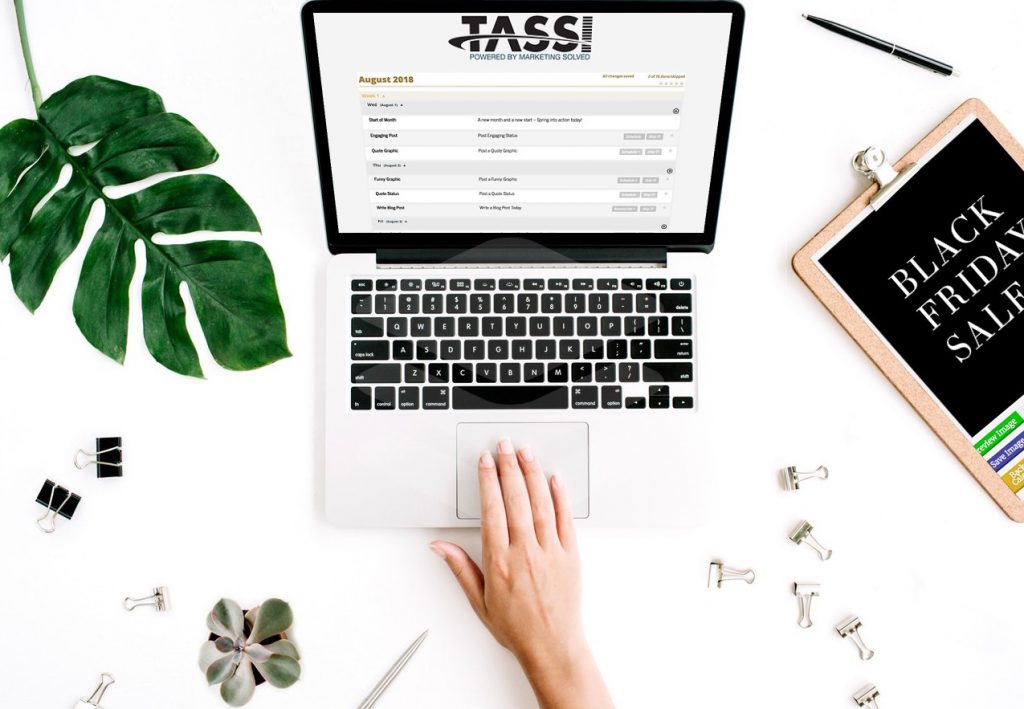 Growing an online business can be very time consuming and overwhelming … but it doesn't have to be!
Tassi is the must have social media management software to grow your business in 2019!
Grow your social media following and get them more engaged by using this simple to use software!
Please be aware that this site utilizes affiliate links. All this means is that if you click on a link and make a purchase, I may receive a small commission at no extra cost to you.
Save yourself the time and frustration on wondering what to post and when to post it.
Watch the video below to get a quick overview of the time saving social media management app that you need to learn how you can grow your social media fast and with ease.
https://www.youtube.com/watch?v=R5O-36gbxeI
Another reason to trust this software is because it was created by Kat Sullivan of Marketing Solved. Kat is one of my go to people when I want to learn strategies to grow my online business.  I also highly recommend her Inner Circle!
Get Notified When The Abundance Academy Bootcamp Opens For Enrollment!
ONLY OPEN FOR ENROLLMENT 3 TIMES PER YEAR!
We won't send you spam. Unsubscribe at any time.Powered By ConvertKit.formkit-form[data-uid="6be0e21c47″] *{font-family:"Helvetica Neue",Helvetica,Arial,Verdana,sans-serif;box-sizing:border-box;}.formkit-form[data-uid="6be0e21c47″]{-webkit-font-smoothing:antialiased;-moz-osx-font-smoothing:grayscale;}.formkit-form[data-uid="6be0e21c47″] legend{border:none;font-size:inherit;margin-bottom:10px;padding:0;position:relative;display:table;}.formkit-form[data-uid="6be0e21c47″] fieldset{border:0;padding:0.01em 0 0 0;margin:0;min-width:0;}.formkit-form[data-uid="6be0e21c47″] body:not(:-moz-handler-blocked) fieldset{display:table-cell;}.formkit-form[data-uid="6be0e21c47″] h1,.formkit-form[data-uid="6be0e21c47″] h2,.formkit-form[data-uid="6be0e21c47″] h3,.formkit-form[data-uid="6be0e21c47″] h4,.formkit-form[data-uid="6be0e21c47″] h5,.formkit-form[data-uid="6be0e21c47″] h6{color:inherit;font-size:inherit;font-weight:inherit;}.formkit-form[data-uid="6be0e21c47″] p{color:inherit;font-size:inherit;font-weight:inherit;}.formkit-form[data-uid="6be0e21c47″][data-format="modal"]{display:none;}.formkit-form[data-uid="6be0e21c47″][data-format="slide in"]{display:none;}.formkit-form[data-uid="6be0e21c47″] .formkit-input,.formkit-form[data-uid="6be0e21c47″] .formkit-select,.formkit-form[data-uid="6be0e21c47″] .formkit-checkboxes{width:100%;}.formkit-form[data-uid="6be0e21c47″] .formkit-button,.formkit-form[data-uid="6be0e21c47″] .formkit-submit{border:0;border-radius:5px;color:#ffffff;cursor:pointer;display:inline-block;text-align:center;font-size:15px;font-weight:500;cursor:pointer;margin-bottom:15px;overflow:hidden;padding:0;position:relative;vertical-align:middle;}.formkit-form[data-uid="6be0e21c47″] .formkit-button:hover,.formkit-form[data-uid="6be0e21c47″] .formkit-submit:hover,.formkit-form[data-uid="6be0e21c47″] .formkit-button:focus,.formkit-form[data-uid="6be0e21c47″] .formkit-submit:focus{outline:none;}.formkit-form[data-uid="6be0e21c47″] .formkit-button:hover > span,.formkit-form[data-uid="6be0e21c47″] .formkit-submit:hover > span,.formkit-form[data-uid="6be0e21c47″] .formkit-button:focus > span,.formkit-form[data-uid="6be0e21c47″] .formkit-submit:focus > span{background-color:rgba(0,0,0,0.1);}.formkit-form[data-uid="6be0e21c47″] .formkit-button > span,.formkit-form[data-uid="6be0e21c47″] .formkit-submit > span{display:block;-webkit-transition:all 300ms ease-in-out;transition:all 300ms ease-in-out;padding:12px 24px;}.formkit-form[data-uid="6be0e21c47″] .formkit-input{background:#ffffff;font-size:15px;padding:12px;border:1px solid #e3e3e3;-webkit-flex:1 0 auto;-ms-flex:1 0 auto;flex:1 0 auto;line-height:1.4;margin:0;-webkit-transition:border-color ease-out 300ms;transition:border-color ease-out 300ms;}.formkit-form[data-uid="6be0e21c47″] .formkit-input:focus{outline:none;border-color:#1677be;-webkit-transition:border-color ease 300ms;transition:border-color ease 300ms;}.formkit-form[data-uid="6be0e21c47″] .formkit-input::-webkit-input-placeholder{color:inherit;opacity:0.8;}.formkit-form[data-uid="6be0e21c47″] .formkit-input::-moz-placeholder{color:inherit;opacity:0.8;}.formkit-form[data-uid="6be0e21c47″] .formkit-input:-ms-input-placeholder{color:inherit;opacity:0.8;}.formkit-form[data-uid="6be0e21c47″] .formkit-input::placeholder{color:inherit;opacity:0.8;}.formkit-form[data-uid="6be0e21c47″] [data-group="dropdown"]{position:relative;display:inline-block;width:100%;}.formkit-form[data-uid="6be0e21c47″] [data-group="dropdown"]::before{content:"";top:calc(50% – 2.5px);right:10px;position:absolute;pointer-events:none;border-color:#4f4f4f transparent transparent transparent;border-style:solid;border-width:6px 6px 0 6px;height:0;width:0;z-index:999;}.formkit-form[data-uid="6be0e21c47″] [data-group="dropdown"] select{height:auto;width:100%;cursor:pointer;color:#333333;line-height:1.4;margin-bottom:0;padding:0 6px;-webkit-appearance:none;-moz-appearance:none;appearance:none;font-size:15px;padding:12px;padding-right:25px;border:1px solid #e3e3e3;background:#ffffff;}.formkit-form[data-uid="6be0e21c47″] [data-group="dropdown"] select:focus{outline:none;}.formkit-form[data-uid="6be0e21c47″] [data-group="checkboxes"]{text-align:left;margin:0;}.formkit-form[data-uid="6be0e21c47″] [data-group="checkboxes"] [data-group="checkbox"]{margin-bottom:10px;}.formkit-form[data-uid="6be0e21c47″] [data-group="checkboxes"] [data-group="checkbox"] *{cursor:pointer;}.formkit-form[data-uid="6be0e21c47″] [data-group="checkboxes"] [data-group="checkbox"]:last-of-type{margin-bottom:0;}.formkit-form[data-uid="6be0e21c47″] [data-group="checkboxes"] [data-group="checkbox"] input[type="checkbox"]{display:none;}.formkit-form[data-uid="6be0e21c47″] [data-group="checkboxes"] [data-group="checkbox"] input[type="checkbox"] + label::after{content:none;}.formkit-form[data-uid="6be0e21c47″] [data-group="checkboxes"] [data-group="checkbox"] input[type="checkbox"]:checked + label::after{border-color:#ffffff;content:"";}.formkit-form[data-uid="6be0e21c47″] [data-group="checkboxes"] [data-group="checkbox"] input[type="checkbox"]:checked + label::before{background:#10bf7a;border-color:#10bf7a;}.formkit-form[data-uid="6be0e21c47″] [data-group="checkboxes"] [data-group="checkbox"] label{position:relative;display:inline-block;padding-left:28px;}.formkit-form[data-uid="6be0e21c47″] [data-group="checkboxes"] [data-group="checkbox"] label::before,.formkit-form[data-uid="6be0e21c47″] [data-group="checkboxes"] [data-group="checkbox"] label::after{position:absolute;content:"";display:inline-block;}.formkit-form[data-uid="6be0e21c47″] [data-group="checkboxes"] [data-group="checkbox"] label::before{height:16px;width:16px;border:1px solid #e3e3e3;background:#ffffff;left:0px;top:3px;}.formkit-form[data-uid="6be0e21c47″] [data-group="checkboxes"] [data-group="checkbox"] label::after{height:4px;width:8px;border-left:2px solid #4d4d4d;border-bottom:2px solid #4d4d4d;-webkit-transform:rotate(-45deg);-ms-transform:rotate(-45deg);transform:rotate(-45deg);left:4px;top:8px;}.formkit-form[data-uid="6be0e21c47″] .formkit-alert{background:#f9fafb;border:1px solid #e3e3e3;border-radius:5px;-webkit-flex:1 0 auto;-ms-flex:1 0 auto;flex:1 0 auto;list-style:none;margin:25px auto;padding:12px;text-align:center;width:100%;}.formkit-form[data-uid="6be0e21c47″] .formkit-alert:empty{display:none;}.formkit-form[data-uid="6be0e21c47″] .formkit-alert-success{background:#d3fbeb;border-color:#10bf7a;color:#0c905c;}.formkit-form[data-uid="6be0e21c47″] .formkit-alert-error{background:#fde8e2;border-color:#f2643b;color:#ea4110;}.formkit-form[data-uid="6be0e21c47″] .formkit-spinner{display:-webkit-box;display:-webkit-flex;display:-ms-flexbox;display:flex;height:0px;width:0px;margin:0 auto;position:absolute;top:0;left:0;right:0;width:0px;overflow:hidden;text-align:center;-webkit-transition:all 300ms ease-in-out;transition:all 300ms ease-in-out;}.formkit-form[data-uid="6be0e21c47″] .formkit-spinner > div{margin:auto;width:12px;height:12px;background-color:#fff;opacity:0.3;border-radius:100%;display:inline-block;-webkit-animation:formkit-bouncedelay-formkit-form-data-uid-6be0e21c47- 1.4s infinite ease-in-out both;animation:formkit-bouncedelay-formkit-form-data-uid-6be0e21c47- 1.4s infinite ease-in-out both;}.formkit-form[data-uid="6be0e21c47″] .formkit-spinner > div:nth-child(1){-webkit-animation-delay:-0.32s;animation-delay:-0.32s;}.formkit-form[data-uid="6be0e21c47″] .formkit-spinner > div:nth-child(2){-webkit-animation-delay:-0.16s;animation-delay:-0.16s;}.formkit-form[data-uid="6be0e21c47″] .formkit-submit[data-active] .formkit-spinner{opacity:1;height:100%;width:50px;}.formkit-form[data-uid="6be0e21c47″] .formkit-submit[data-active] .formkit-spinner ~ span{opacity:0;}.formkit-form[data-uid="6be0e21c47″] .formkit-powered-by[data-active="false"]{opacity:0.35;}@-webkit-keyframes formkit-bouncedelay-formkit-form-data-uid-6be0e21c47-{0%,80%,100%{-webkit-transform:scale(0);-ms-transform:scale(0);transform:scale(0);}40%{-webkit-transform:scale(1);-ms-transform:scale(1);transform:scale(1);}}@keyframes formkit-bouncedelay-formkit-form-data-uid-6be0e21c47-{0%,80%,100%{-webkit-transform:scale(0);-ms-transform:scale(0);transform:scale(0);}40%{-webkit-transform:scale(1);-ms-transform:scale(1);transform:scale(1);}} .formkit-form[data-uid="6be0e21c47″]{box-shadow:0 2px 15px 0 rgba(51,51,51,0.1);overflow:hidden;}.formkit-form[data-uid="6be0e21c47″],.formkit-modal,.formkit-slide-in{max-width:460px !important;}.formkit-form[data-uid="6be0e21c47″] [data-style="card"]{width:100%;display:block;}.formkit-form[data-uid="6be0e21c47″] .formkit-header{margin-top:40px;margin-bottom:0;position:relative;z-index:2;}.formkit-form[data-uid="6be0e21c47″] .formkit-header p{margin-bottom:0;}.formkit-form[data-uid="6be0e21c47″] .formkit-subheader{margin-bottom:25px;}.formkit-form[data-uid="6be0e21c47″] .formkit-column{padding:30px;position:relative;}.formkit-form[data-uid="6be0e21c47″] .formkit-background{background-size:cover;background-repeat:no-repeat;background-position:center;}.formkit-form[data-uid="6be0e21c47″] .formkit-fields{position:relative;}.formkit-form[data-uid="6be0e21c47″] .formkit-field{margin:0 0 15px 0;}.formkit-form[data-uid="6be0e21c47″] .formkit-field:last-of-type input{padding-right:110px;}.formkit-form[data-uid="6be0e21c47″] .formkit-input,.formkit-form[data-uid="6be0e21c47″] .formkit-submit{font-size:14px;}.formkit-form[data-uid="6be0e21c47″] .formkit-input{width:100%;padding:15px 12px;}.formkit-form[data-uid="6be0e21c47″] .formkit-submit{margin-top:5px;margin-bottom:0;}.formkit-form[data-uid="6be0e21c47″] .formkit-guarantee{font-size:13px;text-align:center;margin:25px 0 0 0;}.formkit-form[data-uid="6be0e21c47″] .formkit-guarantee > p{margin:0;}.formkit-form[data-uid="6be0e21c47″] .formkit-background{width:100%;height:100%;position:absolute;top:0;left:0;background-size:cover;z-index:1;}.formkit-form[data-uid="6be0e21c47″] .formkit-powered-by{color:#7d7d7d;display:block;font-size:12px;margin-top:15px;margin-bottom:0;text-align:center;}



COME FOLLOW ME ON PINTEREST